#Recipeoftheweek 4th -11th May
This soup is rich with a touch of sweetness from the roasted squash and the sage gives it a wonderful depth of flavour. A good combo for a Saturday lunch.
Half Roasted Squash (I roasted mine on Friday night and stored in the fridge)
1 medium size sweet potato
Walnut oil to sauté with (I prefer it as it gives a nutty taste)
1. Saute the onion then when soft at the rest of the vegetables.
2. Make the stock up and pour over the vegetables.
3. Cook for 20 minutes until the vegetables are soft.
4. Liquidise the soup and add the sage leaves right at the end and blitz for one last time.
Great served with crusty breads
Love to share other great soup recipes, let me know some great recipes to try?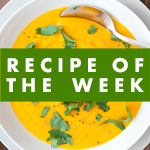 Happy Cooking,
Sam x